Store





NELSON SCHMELSON

"Nelson Schmelson" is Bob's 1992 One Hour

HBO Special. In this Show, Bob interacts with himself, in real time, as

a bunch of different characters. He built a big house where all the

action takes place. He goes from one character to another within

seconds. He disappears behind one door and comes out someplace

else as someone else. Bob's characters include Eppy Epperman, Ping

Yeh (The Landlord), Henry W. Stone (Eppy's Grampa), Otis (The prop

Gorilla), a Cop, a little kid (Ma! I need some Toilet Paper!!) and many

more. It is pure mayhem. $20.00 (US)
(Rated PG)

THE MOST REQUESTED ROUTINES

is a video of Bob's most

requested comedy routines that he has been performing for the past 25

years. This special show was video taped on July 28, 2001. The

performance includes...The "College Football All-star Routine" as well

as the "Football Guy" trying to do a television commercial for the United

Way. "Morning" (The Duck Routine) which was one of Red Skelton's

favorites... The hilarious punch-drunk boxer Jiffy Jeff is also on this

tape. Johnny Carson once said of Bob's Jiffy Jeff character... "You can't

laugh any harder in five or six minutes than you did at that guy... Bob

Nelson!" The "Juggling Babuskas" and more! One full hour of Bob's

comedy. $20.00 (US)
(Rated G)





DVD Collection


$20.00

$20.00
bobnelson.com

Nelson Schmelson
Most Requested
& Checkout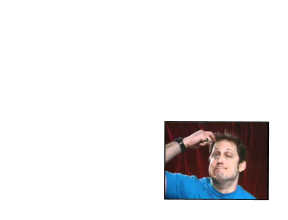 THE LAUGH A LOT CLUB

is a video of Bob's pilot for a children's TV

show. It is a live action children's comedy show starring Bob and Peter

Pitofsky, an Ex-Ringling Bros. and Barnam & Bailey circus clown. It is

all about why kids should not tease each other. It is geared towards

toddlers. It is a half hour of entertainment for the kiddies. $15.00 (US)

(Rated G)

$15.00


THE JIFFY JEFF T_SHIRT

is here again!

Due to popular demand we are making this

t-shirt available for purchase on our wbsite.

Be the first on your block to promote Jiffy

Jeff's Gym, There is no such gym, but when

you wear it,, you will be asked all day long...

"Where is that gym?"

$20.00
View Cart & Checkout Below